Austria
---

| I |M|R|U|A| Europa
Office AUSTRIA


Consultant: Österreichischer Rettungsdienst - ÖRD
Saint Julienstrasse 13 A – 5020 SALZBURG
Phone: +43 664 230 0664
This email address is being protected from spambots. You need JavaScript enabled to view it.
---

Rescue and Emergical Motorcycle Service - EMS (IMRUA - Austria)
The ÖRD was in 1980 pioneered worldwide the development of ambulance motorcycle EMS.
Since 1982 we are with rescue motorcycles EMS as a First Responder go to especially in heavy traffic congestion faster at accident sites to come.
To fatal injuries every second counts.

Not only in the first supply and as the First Responer ÖRD now has more than 30 years of experience, but in this period was the pre-emptive use together with the Government of Salzburg developed. The catchphrase were accident prevention because accidents prevent is better than cure injuries.

The ambulance motorcycle squad is an important component in mobile and Ambulance services / mobile medical stations at cultural and sporting events, such as motor sport, cycling, outdoor events, tour guide, etc.
■ ABOUT reports are shown in the navigation NEWS.
■ Application and Request Information can be obtained from any ÖRD department.
ÖRD is "repräsentativ austria" of IMRUA europa.
---
Highway traffic jam care, EMS / MRU emergency services and active accident prevention service: A service of unpaid volunteers. ÖRD - "humanity is our path" www.oerd.or.at
ÖRD EMS / MRU
Medical motorcycles used in Austria and especially in the area of Salzburg since 1982. Paramedic driver with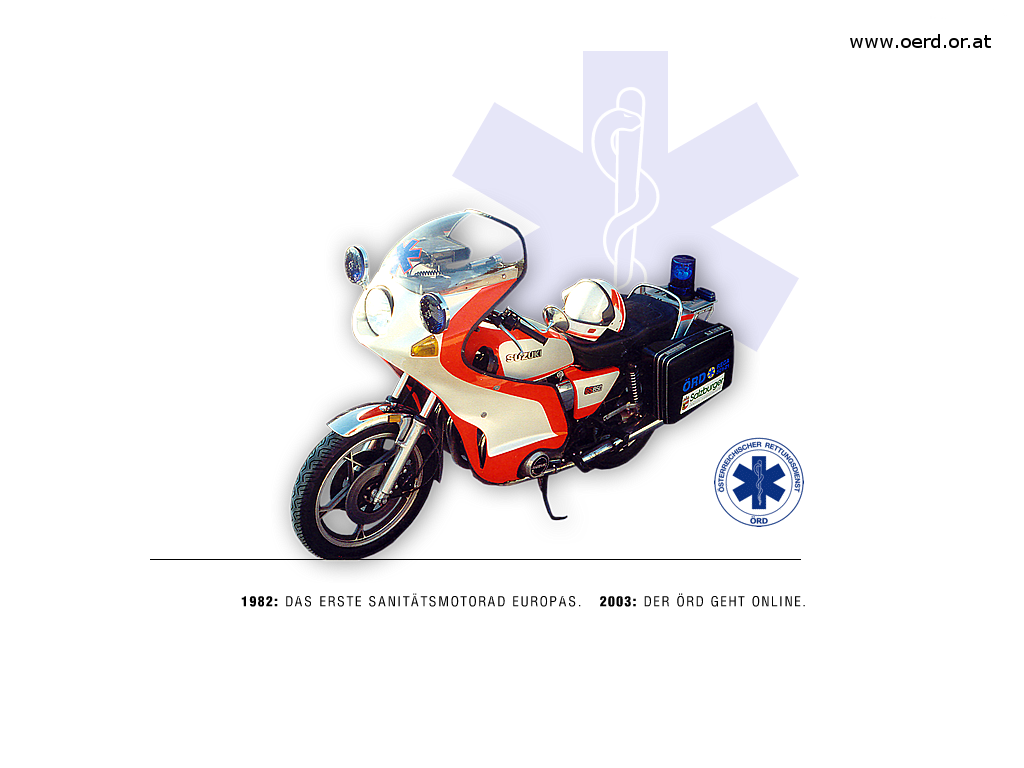 additional special training for active accident prevention have been driveing for 32 (thirty two) years - even ACCIDENT FREE!
Regularly from Friday through Sunday, in addition to irregular peak times, current events and always in collaboration with the Federal Office of the State Government of Salzburg.
Then we are prepared for varied events on highways and main roads, for example, in storage due to high holiday volume, before construction areas, from traffic bottlenecks, which are unavoidable and foreseeable at accidents, even more than the preparation SALVATION ALLEY.
The ÖRD EMS ambulance crews of the motorcycle watching the traffic jam and take care of problem cases, accident First Responder, as an informant for the Rescue and other unforeseeable.
A traffic jam? How long does it take to release the track, no one knows for sure. Because the circumstances in the course of the work of firefighters, emergency services and police are recognizable.
But what can you do with the traffic in traffic. You have to wait? You can put on it? Accompany you back out? Decisions that formed without spending ÖRD staff and appropriate support authorized emergency personnel are difficult.
"Ideally we would now ÖRD SanMotR" it said recently on a work site. Then the question "... who pays?"

Who dares to make a decision. But the backlog expected a solution, otherwise the application will take longer. And daytime temperatures often also press for a quick solution.
The SanMotR are not constantly on call, it is also called from the control center. Correct, because the volunteer ÖRD staff, trained paramedics, are not always tangible. But trying to call them, can also apply to be heard.
And as we experienced in holiday traffic times not the first time a storage service, which are themselves experienced highway policemen worth a praise.
The ÖRDler patrolling the backlog, share information. They supported the police in the derivation, as far as possible. Agreed, by consensus.
Accident on the highway! Full closure, the lanes are impassable. It will last longer. It was ultimately hours. Backwater.
At night a special problem. People feel cramped, the feeling not to come away loaded. The darkness. The uncertainty.
Then the question: "... how it looks with a possible jam care of ÖRD SanMotR?". Yes, it is possible. Two motorcycles, a supply vehicle.
The backlog is sighted, one reported the use of line. Everything in the green, you have informed the people, supplies. Then the decision to run the traffic back out. The police need this support? Denied, again by consensus. Sometime completion notification: All cars are gone. Great. One less worry, facilitated the police.
Uncertainty exists in the request. The control centers are aware of possible contacts. Is the demand there, calls to you? The cost? It is a voluntary work. Vehicles, fuel, motorcycle clothing, materials, and which are not attributable to a medical supply that cause costs.
Since amounts are already kommuliert. And why does it work this way? There are promotions Government of Salzburg, some donations that finance the whole thing.
The use of this ÖRD medics on 2 wheels is ultimately not entirely financed.
Incorrectly is often talked about means of transport used clubs. Surely they must also accompany congestion, vehicles towed, but in such use cases they are not required.
That's what the women and men of ÖRD.

They are primarily rescuers equipped with Paramedic first aid equipment, then motorcyclists and just not advertising on wheels of automobile clubs. It is our volunteer medics on two wheels, which the Helpergen is innate.
Here once was told also by the ÖRD management a big thank you, because this ÖRD Paramedics the ÖRD motorcycle EMS / MRU are an irreplaceable part of our volunteers.